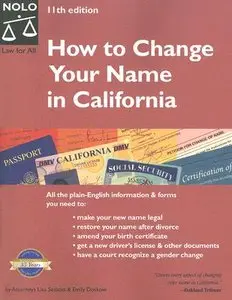 How to Change Your Name in California
NOLO | January 6, 2006 | ISBN-10: 1413303986 | 170 pages | PDF | 1.9 MB
Divorce, complicated spelling, tricky pronunciation, personal preference – any of these may convince you that it's time for a new name. And although the rules have changed recently, it's still a relatively straightforward procedure.
How to Change Your Name in California provides step-by-step instructions and all the forms you need to:
*choose a name and make it your own *change back to your former name after divorce *change your child's name *get a new or amended birth certificate for you or your child *get a new driver license, Social Security card and passport *get a court to recognize a change of gender
The 11th edition reflects the latest rules and regulations stemming from the Patriot Act and the rise of identity theft, and provides the latest forms as tear-outs.