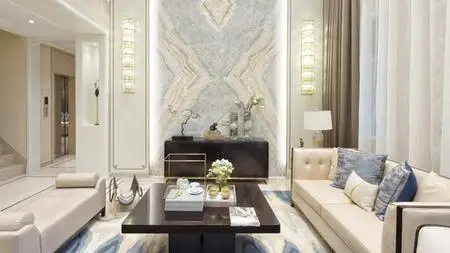 How To Design A Room In 10 Easy Steps
Last updated 11/2021
MP4 | Video: h264, 1280x720 | Audio: AAC, 44.1 KHz
Language: English | Size: 1021.11 MB | Duration: 1h 52m
Interior Design Made Simple
What you'll learn
Design/decorate nearly any room well using a systematic 10-step method.
Identify the best places to buy furnishings for a room.
Identify different interior design styles and select your own style for decorating.
Create different room layout options for family rooms, living rooms, dining rooms and bedrooms.
Create a personalized color scheme that will look great.
Create a layered lighting scheme that is both functional and dramatic.
Requirements
Measuring tape to measure room
Ruler
Pen/pencil (pencil is preferred)
Description
Do you find yourself struggling to pull together a room in a way that is both functional and aesthetically pleasing?  Do you think that interior design is all art and no science?  If you answered yes to either or both of these questions, then this is the class for you!  In this course, you will learn that you can actually use an easy, systematic approach for creating beautiful and functional designs for the primary rooms  in your home, primarily focusing on family and living rooms, dining rooms, and bedrooms.  (Please note that this class does not cover kitchen or bath design).  This course is primarily lecture based, but does contain activities along the way to help you immediately apply what you've learned, as well as a quiz at the end.  By the end of this beginner course, you will be able to completely design a room end-to-end using a simple 10-step approach.  Specifically, you will learn how to:Measure a room to maximize the use of your space and select appropriately sized furnitureCreate your ideal floor plan (various sample floor plans are provided)Identify your preferred interior design style(s)Create a cohesive interior design color schemeSelect the appropriate sized rug and furniture for a roomEfficiently shop for furniture onlineCreate a layered lighting schemeLearn the secret for making off-the-shelf drapes look customThe ideal student for this course is a person who is interested in creating functional and aesthetically pleasing rooms in their home, but does not already have a lot of knowledge in interior design. IMPORTANT NOTES:If you are interested in taking most or all of my courses, I have a recommended order in which to watch them (although it's certainly not required).  I would start with "How to Design a Room in 10 Easy Steps" because most of my other courses are in-depth classes of the concepts touched on in this 10 step class.  Following the 10 Step Course, I suggest moving on to "How to Use Color Like a Pro", followed by "How to Work with Interior Design Styles Like a Pro", then "How to Use Lighting Design to Transform your Home", and finally "Design is in the Details".  My other three courses, "How to Use Minimalist Interior Design to Live your Best Life",  "Use Eco-friendly, Sustainable Design to Improve Your Life" , and "How to Design Your Dream Kitchen" are all stand alone classes on specialty topics within interior design, and therefore, can be taken in any order.Please be aware that this course, or any of my courses, is not intended to provide all of the knowledge needed to become a professional interior designer.  As with any professional field, there is a significant amount of education and/or experience that is needed to achieve competency in this field.  My intention with these courses is to provide some solid foundational knowledge to assist either those individuals interested in "DIY" interior design to work on their own projects more effectively, or to provide supplemental education to both interior design students and professionals.
Overview
Section 1: Section 1 - Welcome and Introduction
Lecture 1 Introduction: Let's Get Started on 10 Easy Steps to Great Interior Design
Lecture 2 Overview of the Course Content / 10 Steps to Great Interior Design
Lecture 3 Frequently Asked Questions
Lecture 4 3 Easy Changes to Make any Room Look Better NOW!
Section 2: Section2 - Pre-Planning for your Fabulous Room
Lecture 5 Step 1 - Measure your Room
Lecture 6 Activity #1 - Measure your own Room
Lecture 7 Step 2 - Decide on Key Activities for Your Room
Lecture 8 Activity #2 - Decide on your own Key Activities
Section 3: Section 3 - Creating the Perfect Mood for Your Room
Lecture 9 Step 3 - Choose your Interior Design Style
Lecture 10 Activity #3 - Choose your Own Interior Design Style
Lecture 11 Step 4 - Choose an Interior Design Color Scheme
Lecture 12 Activity #4 - Choose your Own Interior Design Color Scheme
Section 4: Section 4 - Selecting all the Right Furnishings for your Room
Lecture 13 Step 5 - Choose your Rug
Lecture 14 Activity #5 - Choose your own Rug
Lecture 15 Step 6 - Choose your Furniture
Lecture 16 Activity #6 - Choose your own Furniture
Lecture 17 Step 7 - Choose your Wall Art / Wall Decor
Lecture 18 Activity #7 - Choose your own Wall Art / Wall Decor
Lecture 19 Step 8 - Choose your Lighting
Lecture 20 Activity #8 - Choose your own Lighting
Lecture 21 Step 9 - Choose your Window Coverings
Lecture 22 Activity #9 - Choose your own Window Coverings
Lecture 23 Step 10 - Choose your Accessories and Greenery
Lecture 24 Activity #10 - Choose your own Accessories and Greenery
Lecture 25 Watch Me Create a Room Design Using the 10-Step Method
Section 5: Advanced Topics/Additional Techniques
Lecture 26 Use Focal Points to Take Your Design to the Next Level
Lecture 27 Open Floor Plans – Considerations and Challenges
Lecture 28 How/When to Use Wallpaper in your Design
Section 6: Common Design Challenges
Lecture 29 Brightening Rooms with no Windows/Little Natural Light
Lecture 30 Child and/or Pet Friendly Design Choices
Lecture 31 Design Techniques for Hot/Humid Areas
Lecture 32 Radiators and Window Treatments
Lecture 33 How to Make a Large Room Feel Cozy
Lecture 34 Design Techniques for Irregular Shaped Rooms
Section 7: Conclusion
Lecture 35 Conclusion - Review of the 10 Steps to Great Interior Design
Lecture 36 Bonus Lecture - Do You Love Interior Design?
This is best suited for individuals with limited knowledge of interior design.,This course is for anyone who wants to learn how to create/design a well-pulled together looking room (e.g., family room, living room, dining room, and bedroom). This course does not cover interior design for kitchens or bathrooms