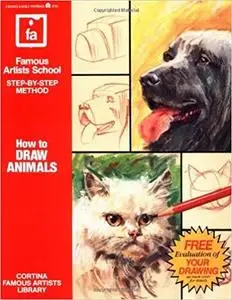 How to Draw Animals (Famous Artists School: Step-By-Step Method)
by Cortina Famous Schools Staff, Walt Reed
English | September 15, 1990 | ISBN: 0805015272 | 114 pages | PDF | 20 Mb
This book introduces you to an exciting approach to animal drawing. It was especially created by a group of America's most eminent artists who have demonstrated the methods they have used on their distinguished careers.
You, too, will find that animal drawing is one of the areas of art that can bring you much fun and excitement. Not only will you gain rich satisfaction from drawing or painting, but you'll discover that people admire creative talent– and you'll experience the pride of achievement that comes from developing a valuable skill that most others lack.
Also, if you have sufficient desire and dedication, your talent in drawing could even lead you to an exciting and challenging career as a professional artist. But, whether or not you have the ambition to be a professional, you'll find that art will be a wonderfully satisfying pursuit.
In this book you'll find fresh approaches to the following features:
* Capturing spirit and motion
* Drawing materials and techniques
* Four basic animal groups
* Constructing the head
* Basic forms of the body
* The horse in motion
* Dogs and cats– step-by-step
* Basic forms of unusual animals
* Birds at rest and in flight
And don't forget– As a buyer of this book you are entitled to receive a FREE ART LESSON from a professional artist/instructor of the FAMOUS ARTISTS SCHOOL:
SPECIAL FREE OFFER TO THE BUYER OF THIS BOOK!
Here's a special opportunity for you…because you love to draw.
Famous Artists School, the foremost institution of home study instruction in art would like you to receive a free art lesson from one of our professional artist-instructors. Therefore, you have this unusual opportunity.
This is your chance to actually experience the helpful suggestions and advice of a professional instructor– right in your own home! Famous Artists School is making this offer to demonstrate to those who are interested in drawing and painting how easy and pleasant it is to learn with the time-tested successful method the School has developed. Just complete the Lesson Project inside and mail it to Famous Schools. One of our professional instructors will personally evaluate your drawing and return it to you with helpful suggestions. This special offer is absolutely free, and there is no obligation. Explore your hidden talents– don't miss this special opportunity.
Feel Free to contact me for book requests, informations or feedbacks.
Without You And Your Support We Can't Continue
Thanks For Buying Premium From My Links For Support