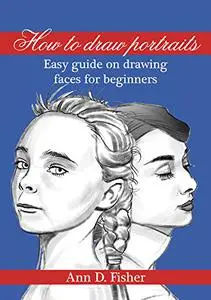 How to Draw a Portrait: From the eyes to the bust, a beginner's guide to drawing portraits by Ann D. Fisher
English | February 28, 2017 | ISBN: 1543235212 | 60 pages | EPUB | 2.32 Mb
You can get FREE bonus book. All the information you will find on the last page.
The art of drawing portraits is not easy to master. The human body is a work of art by itself, a complex composition structured on symmetry as much as on asymmetry. One's personality derives from the subtle interplay of proportions, from the personal specific way one carries oneself, through postures and gestures that are reflected throughout the body, mirrored in each of its parts, from the smallest toe to the arch of the eyebrow.
You will learn how to draw:
- What you need to know about drawing portraits
- Drawing after a live model vs. a photo
- Drawing step by step
- Main aspects when drawing the portrait of a child, woman or man
- Drawing the mouth
- Drawing the nose
- Drawing the eyes
Subjects include: drawing book, drawing faces, drawing, drawing portrait, how to draw portrait, sketching, how to draw people, how to draw eyes, drawing, how to draw, portrait drawing technique, portrait drawing for beginners, portrait drawing books, sketching for beginners, drawing for beginners,, beginners guide to sketching, drawing books, how to sketch, step by step drawing, drawing books, drawing book for adults, drawing pencils, drawing pencils for kids, drawing basics, drawing pencils for beginners, drawing for kids, easy drawings.
Feel Free to contact me for book requests, informations or feedbacks.
Without You And Your Support We Can't Continue
Thanks For Buying Premium From My Links For Support