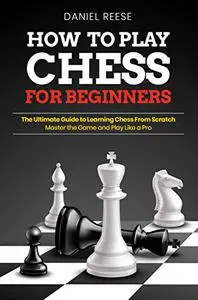 How to Play Chess for Beginners: The Ultimate Guide to Learning Chess From Scratch: Master the Game and Play Like a Pro by Daniel Reese
English | April 8, 2021 | ISBN: N/A | ASIN: B0924695NC | 156 pages | EPUB | 0.90 Mb
Master the Game of Logic and Become a Brilliant Chess Player in No Time!
You're probably looking for the best beginner's chess manual for yourself or a friend and chess sounds like too complicated a game. At first glance, a chessboard is an intimidating place. 32 pieces face off across a landscape of black and white alternating squares, and each has its own unique way of moving. Before you even pick up the first piece, dozens of questions pop up.
How does the points system work?
What should my opening move be?
Is my opponent playing mind tricks, or are they just that good?
They say a good chess player thinks five steps ahead, but a great chess player only thinks one step ahead. What if you're not even sure what your next step should be?
That's why you have this book!
How to Play Chess for Beginners will teach you how to think like a chess champion so that you not only play well but also win.
You'll learn all the basics that will set you up for success. From setting up the board and getting familiar with the pieces to strategizing in every phase of the game, you'll learn the tactics of it all.
After that, you'll also get a crash course in psychology and learn how to read your opponent: a vital part of the game.
In addition, you'll discover:
Common mistakes that new chess players make (and how to avoid them)
A full list of opening strategies and what each one works best for
How to attack and defend, plus how to know which to choose
Chess player personalities and strategies to play against each type
Accounts of amazing chess games and an analysis of their strategies
Endgame strategies to come out on top (nearly) every time
And so much more!