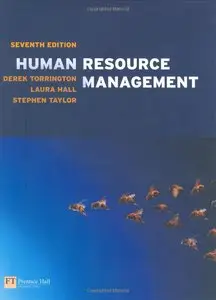 Derek Torrington, Laura Hall, Stephen Taylor, "Human Resource Management"
Publisher: Financial Times Management | 2008-02 | ISBN: 0273710753 | 2009 | PDF | 882 pages | 17 Mb PDF
Product Description:
Contents include HR in context; HR and the labor market; HR planning-control to seduction; job design-signs, symbols & resignations; recruitment and selection; learning and development; Hr development-the organization and the national framework; management development; employment relationship and contractual regulation; establishing the terms and conditions of employment; reward and performance management; employee empowerment; from Morrison to Markets to modernization; HR in the public sector; international human resources; HR in Europe; HR in Japan, China & South East Asia.
Summary: Now this is a good textbook
Rating: 5
This was a simply stated book that gave common sense examples.
The chapters were easy to understand without having to have your professor explain everything.
There are a couple of chapters that seem like they should be reorganized, and a couple of chapters that should be put in a different order. Overall though, this is a very good book to help you understand Human Resource Management.
Summary: Creative multimedia tie-ins, but getting dated?
Rating: 3
I suspect that a new edition will be out shortly. Some of the Internet links sprinkled throughout this book are broken, and the text frequently refers to conditions as they were, "as of mid-1997." Hopefully, the authors will employ a proofreader/style editor, as the sytnax is awkward in a few places. That said, this is a good introductory book. The creative integration of Internet links and video case studies ("On Location at Showtime," and ABC News reports on business trends and issues) add to the value of the text. An Internet site allows instructors to develop an on-line syllabus for students to view and download. Key terms are set on the margins in blue print, repeating their definitions from the text. Summaries at the end of each chapter do the same, and include questions designed to verify reader knowledge of major concepts. The book dwells at length on diversity issues, which is appropriate, given the plethora of Exceutive Orders, Supreme Court decisions, and legislation mandating various EEO/affirmative action practices in the HR field. The chapters on recruitment, selection, and training are the strongest in the book, and cover the topics in a fair amount of depth. The chapter on labor unions reveals a pro-union bias; otherwise, the book is ideology-free. Overall, this is a more than adequate treatment of the subject, and is quite serviceable.