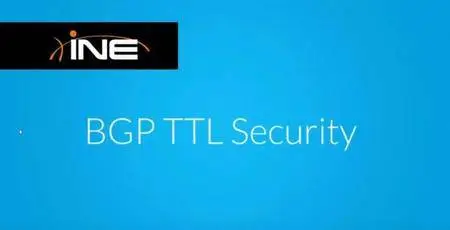 INE - CCNP Service Provider Technology Course: 642-885 SPADVROUTE
Size: 3.20 GB | Duration: 22 hrs 3 mins | Video: AVC (.mp4) 1280x720 30fps | Audio: AAC 44KHz 2ch
Genre: eLearning | Language: English | +Course files
This course will cover configuring, verifying, and troubleshooting IPv4 and IPv6 advanced BGP configuration, IP multicasting, and IPv6 transition mechanisms in implementing and supporting a service provider network. This exam covers the Cisco IOS, IOS-XE and IOS-XR operating systems.
As the course progresses, picking up where we left off in the Route course, we will fully implement advanced routing features in the Service Provider core. Detailed technology explanations coupled with white-boarding to illustrate and help the viewer visualize what is going on. Using Wireshark capability for packet capture.
BGP Overview
• BGP Scaling in the SP
• BGP Route Propagation in the SP
• BGP Configuration Scalability
• BGP Route Reflection & Confederations
• BGP Route Reflection & Confederation with Confed in Full Mesh :: Part 1
• BGP Route Reflection & Confederation with Confed in Full Mesh :: Part 2
• BGP Route Reflection & Confederation with Confed in RR :: Part 1
• BGP Route Reflection & Confederation with Confed in RR :: Part 2
• BGP RR & Confeds Breakdown in Wireshark
• BGP Customer to SP Connectivity Types :: Part 1
• BGP Customer to SP Connectivity Types :: Part 2
BGP Connecting to an ISP
• Best Practices & Troubleshooting :: Part 1
• Best Practices & Troubleshooting :: Part 2
• Single Homed Single IP & Multiple IPs with NAT
• Single Homed Primary & Backup, Load Sharing eBGP Multihop & BGP Multipath :: Part 1
• Single Homed Primary & Backup, Load Sharing eBGP Multihop & BGP Multipath :: Part 2
• Dual Homed Multipathing & Default routing :: Part 1
• Dual Homed Multipathing & Default routing :: Part 2
• Multihomed :: Default Route Filtering
BGP Path Selection
• IPS to ISP :: IOS Based
• ISP to ISP :: Confederation Based
BGP Security
• BGP Threats, BGP Mitigation, Max Prefix & AS, BGP Neighbor Authentication
• TTL Security
• Control Plane Policing
• Remote Triggered Black Hole Filtering
BGP Convergence
• Overview
• Route Dampening
• PMTU, Interface Queues, & Distributed BGP
• BGP PIC
• BFD For BGP
• BGP Timers, NSF, & NSR
BGP with IPv6
• IGP Setup
• iBGP Configuration
• iBGP Route Reflection with Templates
• eBGP with IPv6, Global Unicast, & Link Local Addresses
IP Multicast
• Overview :: Part 1
• Overview :: Part 2
• Multicast Distribution Trees
• Multicast on the LAN
• Intro to PIM Sparse Mode
• Enabling PIM & Static RP
• PIM Maintenance & Operations
• RP Distribution
• Auto-RP
• BSR
• Anycast RP
• MSDP
• Source Specific Multicast
IPv6 Multicast
• Overview
• PIMv6 Overview
• Embedded RP
• BSR
• MLD
Services
• DNS
• DHCP
• IPv6 :: QoS
• IPv6 Tools :: CDP, CEF, Ping, Trace
• IPv6 :: Services
• IPv6 :: Tunneling
• IPv6 :: Broadband