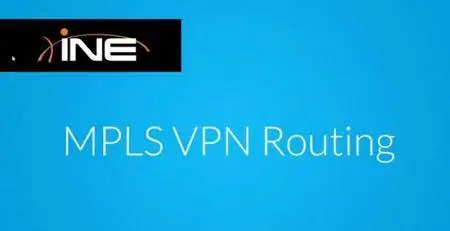 INE - CCNP Service Provider Technology Course: 642-889 SPEDGE
Size: 2.85 GB | Duration: 18 hrs 38 mins | Video: AVC (.mp4) 1280x720 30fps | Audio: AAC 44KHz 2ch
Genre: eLearning | Language: English | +Course files
This course will cover the concepts and implementation of VPN solutions from the Service Providers perspective, including simple and complex layer 3 MPLS VPNs, CSC, 6VPE, and layer 2 VPNs such as AToM and VPLS. This exam covers the Cisco IOS, IOS-XE and IOS-XR operating systems.
Detailed technology explanations coupled with white-boarding to illustrate and help the viewer visualize what is going on. Using Wireshark capability for packet capture analysis, CSR1000v's 3.13 (15.4(3)S) and IOS-XRv 5.3 for a full deployment. Part 4 in a 4 part series. Route is used to get core routing up and running, Adv. Route enables advanced features, Core gets the network ready to support customer connectivity.
MPLS
• MPLS :: VPN Technologies
• VPN Architecture, RDs, RTs, VRF Configuration :: Part 1
• VPN Architecture, RDs, RTs, VRF Configuration :: Part 2
• VPN Routing with MP-BGP
• VPN Routing with LDP and VPN Labels
MPLS L3 VPN
• MPLS L3 VPN :: Overview
• PE-CE Routing with Static Routes
• PE-CE Routing with RIPv2
• PE-CE Routing with EIGRP
• PE-CE Routing with EIGRP Site Of Origin
• PE-CE Routing with OSPF :: Part 1
• PE-CE Routing with OSPF :: Part 2
• PE-CE Routing with OSPF Multi-VRF CE and the Down Bit
• PE-CE Routing with OSPF Sham Links
• PE-CE Routing with ISIS
• PE-CE Routing with BGP
• Controlling VPN Routes
• Troubleshooting MPLS VPNs
• Overlapping L3 VPNs
• Central Services VPN :: Part 1
• Central Services VPN :: Part 2
• Managed CE Router
• Internet Access and VPNs
MPLS L2 VPN
Local Switching
L2VPN Overview :: Part 1
L2VPN Overview :: Part 2
Any Transport over MPLS Overview
AToM Configuration :: Part 1
AToM Configuration :: Part 2
Virtual Private LAN Service VPLS Overview
VPLS Configuration :: Part 1
VPLS Configuration :: Part 2
Hierarchical VPLS Configuration
MPLS Inter AS L3 VPN
• MPLS Inter AS L3 VPN :: Overview
• Option A IGP, LDP, VRF and VPNv4 Configuration :: Part 1
• Option A IGP, LDP, VRF and VPNv4 Configuration :: Part 2
• Option A PE-PE Configuration and Verification :: Part 1
• Option A PE-PE Configuration and Verification :: Part 2
• Option B Overview
• Option B Configuration :: Part 1
• Option B Configuration :: Part 2
• Option C Overview
• Option C Configuration
• Carrier Supporting Carrier Overview
• Carrier Supporting Carrier - VPNv4, IGP-LDP, VRF Configuration
• Carrier Supporting Carrier :: Final Configuration
MPLS L3 VPN :: Multicast VPN
• Multicast VPN Overview
• Multicast VPN :: Configuring the MPLS Core
• Multicast VPN :: Configuring Multicast VPN
• Multicast VPN :: Optimizing MVPN with Data MDTs