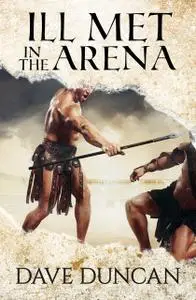 «Ill Met in the Arena» by Dave Duncan
English | EPUB | 1.7 MB
"Complicated politics and family scandals twist through this tale of courtly intrigue from prolific fantasist Duncan" (Publishers Weekly).Though Quirt's name is little known, his skills as a gladiator are quickly obvious and hard to match. In Aureity, noblemen battle in the arena circuit, using their powers of teleportation and telekinesis to prove their breeding and strength. The prizes at play are not only silver and bronze but also the chance to rise amongst the nobility and mate with the ruling class of women. Older than most players, Quirt still manages to draw attention and awe through his mastery of the games. Some of that attention comes from Humate, a brash young competitor with unbelievable power and little patience or control. To him, Quirt is a mystery he can't resist. However, that mystery soon proves much bigger than all of them. Ancient crimes, struggles for status, romance, vengeance, duty—Humate has a lot to learn from the world‑wise Quirt. As the secret of Quirt's true identity and past unfolds, Humate and Quirt race to bring justice to the murderer and madman whose blood links the two gladiators together.  With Ill Met in the Arena, award‑winning fantasy author Dave Duncan creates yet another new, fully realized world filled with complex cultures and brisk adventure. Intrigue, politics, action, humor—this book will grab you from page one and not let go until the final word.