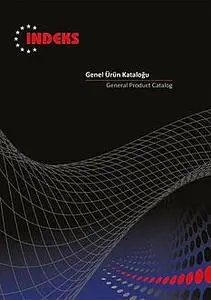 «Indeks» by iBooks 2.5
English | EPUB | 5.9 MB
Indeks A.S. was founded in 1996 in Izmir / Turkey. Its activities are covering manufacturing, sales and services in Turkey and all over the world.The company's head office is a factory located within the Ataturk Industrial Zone in Izmir on an area of 17.000 m². The company owns also a factory in the Menemen Free Zone and a regional offices in Istanbul and Ankara.
The factory's production line :
— 2 KVA — 3500 KVA Generator Manufacturing
— 1.5 Tons — 20 Tons Forklift Manufacturing (Diesel, LPG,
Electric forklifts)
— Hoppecke Traction and Stationonary Type Battery Groups
— 5 Mt — 33 Mt Motor — Boats Manufacturing
— Defence Industry Projects
— Special projects (Energy Transfer Lines, Osmosis,
Garbage Compactors)
— INDEKS & MAZ truck and bus groups