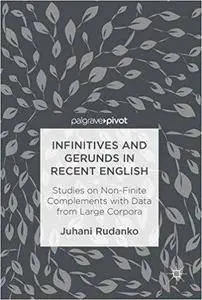 Infinitives and Gerunds in Recent English: Studies on Non-Finite Complements with Data from Large Corpora by Juhani Rudanko
English | 2017 | ISBN: 3319463128 | 88 Pages | PDF | 4.1 MB
This book explores the grammar of to infinitives and gerundial -ing clauses, which is a central area at the interface of syntax and semantics, against the background of what has been called the Great Complement Shift. Over the course of six chapters, the author explores the semantic properties of constructions where the general spread of gerundial -ing clauses occurs at the expense of to infinitives. The author draws on large electronic corpora, ensuring that new perspectives are opened on the basis of authentic corpus evidence. He identifies trends of variation and change in the use of the two constructions and proposes The Choice Principle, an innovative perspective on the semantics of to infinitives and gerundial -ing complements. This book will be of interest to researchers and students working on English grammar or the recent history of English grammar.