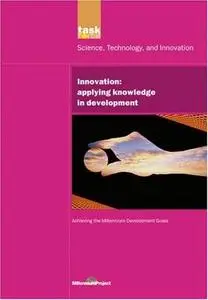 Bruce Aune "Metaphysics: The Elements"
Earthscan Publications Ltd. | 2005 | ISBN: 1844072185 | 224 pages | PDF | 2.7 Mb
One of 14 publications comprising the official UN strategy on how to reduce extreme poverty and achieve the fundamental worldwide human development goals for the coming decade
Project directed by Jeffrey D. Sachs, named one of the 100 most influential people in the world by Time Magazine, current Director of The Earth Institute, Columbia University, and Special Adviser to UN Secretary-General Kofi Annan
The essential reference work for all governments, policymakers, aid and donor agencies, development practitioners, researchers, and students worldwide
The use of new sciences and technologies in developing countries is vital in alleviating poverty and human suffering for the long term. Innovation makes a powerful case for development policies to focus on key sources of economic growth, particularly the use of scientific and technological knowledge and related institutional adjustments. It outlines core areas for policy action, including a focus on platform or generic technologies, defining infrastructure services as foundations for technology, placing universities at the center of local development and improving science education, spurring entrepreneurial activities, improving the policy environment, and focusing on areas of under-funded research for development.
The UN Millennium Development Library
Innovation, in conjunction with the flagship publication Investing in Development, is one of 13 thematic publications that comprise the UN Millennium Library. This set of reference handbooks charts world progress and presents strategies for dramatically reducing extreme poverty in its many dimensions–income poverty, hunger, disease, exclusion, lack of infrastructure, and shelter–by 2015, while promoting gender equality, education, health, and environmental sustainability. This Library is the official, comprehensive point of reference and action plan for achieving the fundamental development objectives embodied in the Millennium Development Goals (MDGs) adopted by the UN and world leaders in 2000.
–- No mirrors, please –-