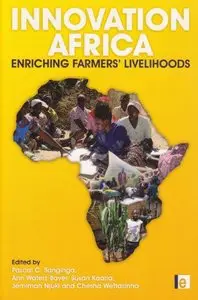 Innovation Africa: Enriching Farmers' Livelihoods
Earthscan | November 20, 2008 | ISBN-10: 1844076717 | 384 pages | PDF | 2.5 MB
Agricultural research, extension and education can contribute greatly to enhancing agricultural production in a sustainable way and to reducing poverty in the developing world, but achievements have generally fallen short of expectations in Africa. In recent years, growing economic and demographic pressures - coupled with the entry of new market forces and actors - have created a need and an opportunity for more interactive approaches to development. Understanding the existing innovation processes, recognizing the potential for catalysing them and learning how to support joint innovation by different groups will be the key to success. This book covers new conceptual and methodological developments in agricultural innovation systems, and showcases recent on-the-ground experiences in different contexts in Africa. The contributions show how innovation is the outcome of social learning through interaction of individuals and organizations in both creating and applying knowledge. It brings examples of how space and incentives have been created to promote collaboration between farmers, research, extension and the private sector to develop better technologies and institutional arrangements that can alleviate poverty. In 25 broad-ranging chapters the book reflects cutting-edge thinking and practice in support of innovation processes in agriculture and management of natural resources.