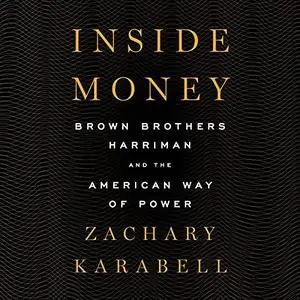 Inside Money: Brown Brothers Harriman and the American Way of Power by Zachary Karabell
May 18, 2021 | English | ASIN: B08BLV67LH | M4B & MP3 @126 kbps | 17 hrs 16 mins 15 secs | Unabridged | Retail
Narrator: Zachary Karabell
Conspiracy theories have always swirled around Brown Brothers Harriman, and not without reason. Throughout the 19th century, when America was convulsed by a devastating financial panic essentially every 20 years, Brown Brothers quietly went from strength to strength, propping up the US financial system at crucial moments and catalyzing successive booms, from the cotton trade and the steamship to the railroad, while largely managing to avoid the unwelcome attention that plagued some of its competitors. By the turn of the 20th century, Brown Brothers was unquestionably at the heart of what was meant by an American Establishment. As America's reach extended beyond its shores, Brown Brothers worked hand-in-glove with the State Department, notably in Nicaragua in the early 20th century, where the firm essentially took over the country's economy. To the Brown family, the virtue of their dealings was a given; their form of muscular Protestantism, forged on the playing fields of Groton and Yale, was the acme of civilization, and it was their duty to import that civilization to the world. When, during the Great Depression, Brown Brothers ensured their strength by merging with Averell Harriman's investment bank to form Brown Brothers Harriman, the die was cast for the role the firm would play on the global stage during World War II and thereafter, as its partners served at the highest levels of government to shape the international system that defines the world to this day.
In Inside Money, acclaimed historian, commentator, and former financial executive Zachary Karabell offers the first full and frank look inside this institution against the backdrop of American history. Blessed with complete access to the company's archives, as well as a thrilling understanding of the larger forces at play, Karabell has created an X-ray of American power - financial, political, cultural - as it has evolved from the early 1800s to the present. Today, unlike many of its competitors, Brown Brothers Harriman remains a private partnership and a beacon of sustainable capitalism, having forgone the heady speculative upsides of the past 30 years but also having avoided any role in the devastating downsides. The firm is no longer in the command capsule of the American economy, but, arguably, that is to its credit. If its partners cleaved to anyone adage over the generations, it is that relentless pursuit of more can destroy more than it creates.