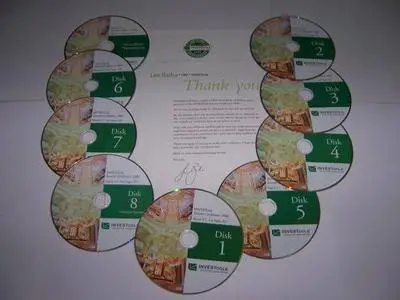 INVESTools Las Vegas Conference 2006
8xDVD5 | NTSC 4:3 (720x480) VBR | MPEG2 ~5040 kbps | English: LPCM, 1536 kb/s (2 ch) | Duration: 24 hours
Size: 30 GB | Genre: Trading
8 DVDs and presentation slides featuring all INVESTools tutors, plus famous guest tutors. A must have for traders. Most of all trading techniques shows in this conference by the presenters based on their years of knowledge and exprience on trading.
DVD 1
Active Investing: Stocks - David Johnson
Active Investing: Options - Michael Follett
DVD 2
Basic Options Online - John Jagerson
Bearish Strategies - Andrew Scott
Covered Calls - Mark Larson
DVD 3
Creating Custom Searches - David Johnson
Currency Trader Online - Darren Kimoto
Industry Group Analysis - Eben Miller
DVD 4
Leaps Strategies - Mark Larson
Managing Your 401K - Scott Martin
Market Forecast - Mark Broberg
DVD 5
OEX & SPX Strategies - Stacy Acevedo
Prophet Tools - Tim Knight
Reversing A Bad Trade - Mike Coval
DVD 6
Risk Management - Eben Miller
Spread Trading - Mike Coval
Stock Splitting Companies - Butch Shorack
DVD 7
Tax Planning - Alan Rascell
Trading Discipline - Bruce Dinger
Trading For A Living - Michael Drew
DVD 8
Sunday Welcome Reception
Monday Morning General Session
Tuesday Afternoon Closing Sessionpa
Welcome to the best eLearning video (English, German, French, Spanish language) and many more:
LINK
Do not forget to check my blog! Updated regularly! Add in bookmarks my blog :)
PM me if Links not working!
No mirrors pls!