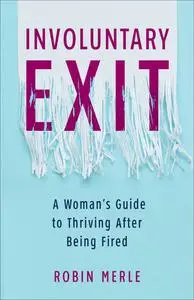 Involuntary Exit: A Woman's Guide to Thriving After Being Fired by Robin Merle
English | October 19th, 2021 | ISBN: 1647423090 | 168 pages | True EPUB | 1.68 MB
It can take less than a minute to get fired. Less than a minute to hear the words that change your life as you've known it. You're stunned, shocked, humiliated—because your career has defined your life and you've been blindsided. You're a company Loyalist with a capital L, and you've been sucker punched professionally. How do you even talk about this?
Countless books focus on leadership and resilience, but none of them take you through what actually happens to women leaders who are suddenly let go, or who endure untenable circumstances and ultimately fire themselves. None of them take you, step by step, through the emotional process of acceptance and beginning again. And that's where Involuntary Exit comes in.
With advice for every unexpected twist, turn, and emotional trigger, this book is based on author Robin Merle's experience at the top of billion-dollar organizations, as well as her interviews with accomplished women who were suddenly severed from their organizations and navigated their way back to success. The real-life examples she offers in these pages prove that you're not alone—and that you, too, will get through this. Whether you've been fired or need to move on, Involuntary Exit will help you rediscover your value and emerge as a stronger leader on your own terms.
Enjoy
My Blog.
No any convert or low quality!