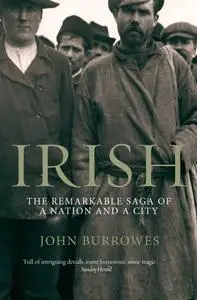 Irish: The Remarkable Saga of a Nation and a City by John Burrowes
English | October 14th, 2011 | ISBN: 1840186852, 1840188510 | 332 pages | EPUB | 0.37 MB
Irish is the story of the mass migration from Ireland to Glasgow that took place in the wake of the Great Famine of the mid-nineteenth century. It is an epic account of the coming together of a nation and a city. This is the tale of those who escaped a nightmare existence in the poorest and most deprived country in Europe and changed the city of Glasgow forever. Irish brings to life the horrot of those grim days and reveals the unimaginable suffering endured as a result of the Potatoe Blight.
It describes in vivid detail the hazards and hardships faced by those fleeing Ireland in search of a better life overseas, including a startling account of one of the most deplorable maritime crimes ever committed, the voyage of the SS Londonderry. The coming of the Irish to Glasgow had a bigger impact on the city than other event. Now, for the first time, the truth about this most significant and stirring episode is vividly unfolded. It tells of the contribution made by Irish labourers in Glasgow to the Industrial Revolution; reveals that the legendary football clubs of Celtic and Rangers may never have existed were it not for the migrant's arrival; and describes the "Partick War", and the occasion of the first-ever Orange Walk.