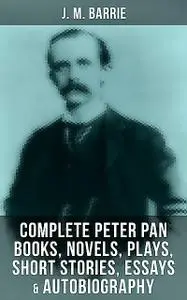 «J. M. Barrie: Complete Peter Pan Books, Novels, Plays, Short Stories, Essays & Autobiography» by J. M. Barrie
English | EPUB | 13.0 MB
This carefully edited collection has been designed and formatted to the highest digital standards and adjusted for readability on all devices.
Peter Pan Adventures
Peter Pan in Kensington Gardens
Peter and Wendy
Peter Pan, or The Boy Who Wouldn't Grow Up When Wendy Grew Up Novels
Better Dead
When a Man's Single
Auld Licht Idylls
A Window in Thrums
The Little Minister
Sentimental Tommy
Tommy and Grizel
The Little White Bird
A Tillyloss Scandal
Life in a Country Manse
Lady's Shoe
Short Stories
A Holiday in Bed and Other Sketches
Two of Them and Other Stories
Other Short Stories
Inconsiderate Waiter
The Courting of T'Nowhead's Bell
Dite Deuchars
The Minister's Gown
Shutting a Map
An Invalid in Lodgings
The Mystery of Time-Tables
Mending the Clock
The Biggest Box in the World
The Coming Dramatist
The Result of a Tramp
The Other "Times"
How Gavin Birse Put it to Mag Lownie
The Late Sherlock Holmes
Plays
Ibsen's Ghost
Jane Annie
Walker, London
The Professor's Love Story
The Little Minister
The Wedding Guest
Little Mary
Quality Street
The Admirable Crichton
What Every Woman Knows
Der Tag (The Tragic Man)
Dear Brutus
Alice Sit-by-the-Fire
A Kiss for Cinderella
Half an Hour
Seven Women
Old Friends
Mary Rose
Pantaloon
The Twelve-Pound Look
Rosalind
The Will
The Old Lady Shows Her Medals
The New Word
Barbara's Wedding
A Well-Remembered Voice
Essays
Neither Dorking Nor The Abbey
Charles Frohman: A Tribute
Courage
Preface to The Young Visiters
The Man from Nowhere
Woman and the Press
A Plea for Smaller Books
Boy's Books
The Lost Works of George Meredith
The Humor of Dickens
Ndintpile Pont
Q What is Scott's Best Novel?
Memoirs
Margaret Ogilvy
An Edinburgh Eleven
My Lady Nicotine
Sir James Matthew Barrie (1860–1937) is one of the greatest Scottish novelists and playwrights, best remembered as the creator of Peter Pan.