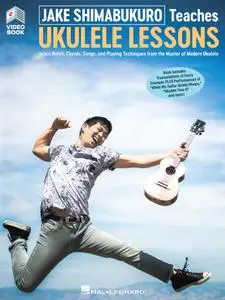 Jake Shimabukuro Teaches Ukulele Lessons: Book with Online Audio and Full-Length Online Video by
English | February 1st, 2017 | ISBN: 1495062856 | 80 pages | EPUB | 49.50 MB
(Ukulele). Learn notes, chords, songs, and playing techniques from the master of modern ukulele! In this unique book with online audio and video, Jake Shimabukuro will get you started on playing the ukulele. The book includes full transcriptions of every example, the video features Jake teaching you everything you need to know, and the audio features recordings of all the examples. In addition, the video includes performances of Jake playing some of his most popular arrangements such as "While My Guitar Gently Weeps" and "Ukulele Five-Oh," among others.
The audio and video is accessed online using the unique code inside each book and can be streamed or downloaded. The audio files include PLAYBACK+, a multi-functional audio player that allows you to slow down audio without changing pitch, set loop points, change keys, and pan left or right.
Enjoy
My Blog
. No any convert or low quality!