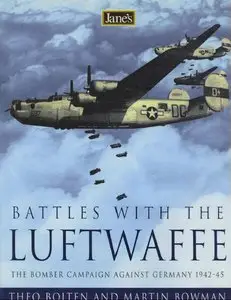 Jane's Battles With The Luftwaffe: The Bomber Campaign Against Germany 1942-45 By Martin W. Bowman, Theo Boiten
Publisher: Harper Collins 2001 | 240 Pages | ISBN: 0007113633 | PDF | 68 MB
A comprehensive look at the air war over Europe during World War II. The authors have interviewed American, German, British, Australian, Czech, French and veteran aircrew from many other countries. This book collates the personal stories and sets them in their historical context.
NO PASSWORD


!!!No Mirrors below, please! Follow Rules!