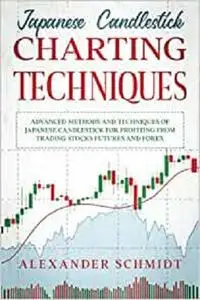 Japanese Candlestick Charting Techniques: Advanced Methods and Techniques of Japanese Candlestick for Profiting from Trading Stocks Futures and Forex by Alexander Schmidt
English | September 1, 2021 | ISBN: N/A | ASIN: B09F1B885P | 125 pages | EPUB | 0.38 Mb
Have you ever wished you could be a trader? Ever wondered about what those Japanese candlesticks on a chart are and what stories they tell? Do you have the feeling that if you could learn to decipher them, your trading would improve by leaps and bounds? Then this is the book for you.
With this book you will:
Learn the roots of the Japanese candlestick charting technique.
Discover the hidden keys to making the candles give you profitable trades.
Elevate your trading skills with technical analysis indicators
Find the power infusing indicators with candles for explosive market moves
Gain clarity on the relationship between buyers and sellers in the markets
Predict the direction the market will go before the move actually happens
Discover the wonders of oscillators and how they can level up your trading
Learn candle patterns that you won't find in just any other book out there
Discover the truth about time frames and how to exploit them for profit
Learn the importance of trading with a macro view
Finally stop getting margin calls and blown accounts
Learn to exploit each pattern for both upside and downside potential
Become one of the most elite traders the world has yet seen
With this book, you will finally know exactly what the candles are saying to you every time you seek out a trading opportunity. Put what you learn in this book to good use, and watch your trading results grow insanely better.
Feel Free to contact me for book requests, informations or feedbacks.
Without You And Your Support We Can't Continue
Thanks For Buying Premium From My Links For Support