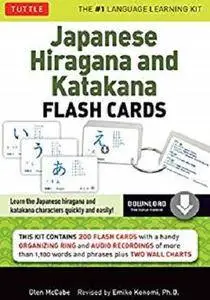 Japanese Hiragana & Katakana Flash Cards Kit Ebook: 200 Japanese Flash Cards Featuring Both Phonetic Alphabets, Language Guide, Wall Chart and Native Speaker Audio Pronunciations by Glen McCabe
English | August 12, 2014 | ASIN: B00M6GC1V2 | 32 pages | AZW3 | 1.72 MB
Learning to recognize and pronounce the basic hiragana and katakana phonetic alphabets is the first step in studying the Japanese language.
This set of 200 flash cards along with accompanying booklet, wall charts, and audio disc contains everything you need to quickly gain mastery of the two Japanese syllabaries and is a great way to learn Japanese. Frequent review is the key to memorizing the characters, and these cards are easily carried in a pocket or purse for a quick review session anytime.
This box contains:
200 hole–punched flash cards with an organizing ring.
Two 24" x 18" wall charts showing all hiragana and katakana.
Native–speaker audio recordings of 1,128 words and phrases.
32–page study booklet with indexes and practice tips.
Also available from Tuttle Publishing, Japanese Kanji Flash Cards Kit can be used alongside these flash cards to master written Japanese.