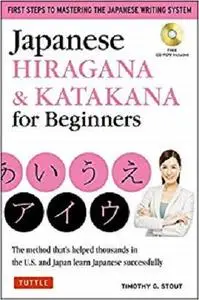 Japanese Hiragana & Katakana for Beginners: First Steps to Mastering the Japanese Writing System by Timothy G. Stout
ISBN: 4805311444 | 192 pages | PDF | April 10, 2011 | English | 15 Mb
The method that's helped thousands in the U.S. and Japan learn Japanese successfully.
The Japanese language has two basic writing systems, hiragana, and katakana, in addition to the one that uses Chinese characters or Kanji. This handy book teaches you a new mnemonic–based method to read and write the fundamental 92 hiragana and katakana characters. Along with its sister book:
Japanese Kanji for Beginners
it provides a complete introduction to written Japanese.
Memorable picture mnemonics help you to learn the characters by associating their shapes and sounds with combinations of images and English words already familiar to you.



Feel Free to contact me for book requests, informations or feedbacks.
Without You And Your Support We Can't Continue
Thanks For Buying Premium From My Links For Support