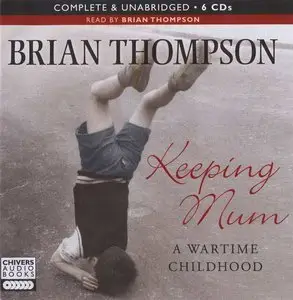 Brian Thompson - Keeping Mum: A Wartime Childhood (2006) Unabridged
Chivers Audio | ISBN 9781405674 | Narrated by the Author | 6CDs | MP3 96kpbs | 6Hrs 16Mins | 259Mb

Tracks every ± 3 mins
Mum and Dad - Squibs and Bert - were a complete mystery to Brian Thompson as he grew up in Cambridge and London during the 1940s. His mother danced with the Yanks all night and slept under a fake fur coat all day, and when his father bothered to come home he resolutely discouraged Brian in everything. Whilst other children were evacuated out of the big cities, Brian found himself travelling into London, and spent much of the war with an eccentric crowd of ribald relations.
Review By Will Cohu (19 Feb 2006)
For the past 30 years Brian Thompson has made his living primarily as a writer for television and radio, which has been a loss to the world of books. He has a disarmingly casual and elegant way with outrageous subject matter, and in Keeping Mum, the first volume of his memoirs, he's like a man whistling an infectiously happy tune while taking us through a leech-infested swamp.
Keeping Mum is riveting stuff. It is built around the poisonous marriage of his parents, Peggy and Bert, whose relationship was so broken that they couldn't even find the pieces. Though working-class Londoners, the couple moved to Cambridge in the late 1930s, where they were tenants on an estate promoted as "Homes for the Future".
There, in the filthy interior of the rented house, Thompson spent the Second World War "licking the salty grime from the windows" and waiting for his mother to come home. His father had volunteered for the RAF. While Bert was flying troops into Arnhem, Peggy doused herself in Blue Moon, drew nylons on her legs and went out dancing. The house was full of cartons of Lucky Strikes.
Before the war Bert had been a Post Office engineer, "ruthlessly ambitious and a quick learner". Peggy was always unstable, unhappy and promiscuous. She despised the family she had left behind in London, but equally loathed Cambridge: "On hot days she would sit in a chair outside the kitchen door, her legs exposed to the crotch of her knickers, her back turned resolutely to the pleasure of the lawn, smoking and throwing the dog ends at the dustbin."
In Bert's absence, both parents charged their six-year-old son with impossible responsibilities. Bert told him that he should "do something" about his mother, while Peggy screamed at him to keep his effing mouth shut. Brian assumed a furtive, observational role, dodging the blows of both parents. He was a grateful refugee to wartime London, where he was dumped on his aunt Elsie. When her house was bombed, he was sent to his father's parents above a bicycle repair shop in Lambeth Walk. But he always ended up back in Cambridge, alone in the house with an atlas, Johnson's Dictionary and a copy of BB's The Little Grey Men, sent to him by his father's aircrew.
Bert was courageous and rose to flight-lieutenant, but he remained brutally uncharitable. He even rejected an appeal by his former rear-gunner for the loan of a quid.
Despite his mother's madness, Thompson felt for Peggy. "There was something in her war that was more real than my father's slow progress towards making himself an officer and a gentleman," he writes. "For all the mess she made of things, she was by temperament more likely than he to have sensed the huge ache in the skies that overlaid England. Hers was a tragic war, filled with cupboards stuffed with skeletons. One of her boyfriends gave me his baseball bat and a huge meaty softball. He was killed a week or so later."
In the post-war years, Bert worked for a London planning department and metamorphosed into a working-class Tory with a "fine disdain of lefties, commies, poofs, conchies, spivs, scroungers, tarts, and of course, above all, Yanks". Peggy and Brian were left to rot in Cambridge.
Grammar school provided Brian with libraries and girls, but his education made both parents suspect that he was turning into a swot, and his father promptly taught him to swim by throwing him in the deep end of the pool at Jesus Green. One summer day, Brian told Peggy he was going to London on his brakeless, rusting bicycle. His mother shrugged and lit a fag. He narrowly survived the 50-mile trip and followed the bus route across the West End to Lambeth, where his grandparents gave him a bottle of stout.
"You mean you never come down Stamford Hill way?" asked his grandfather. "Well, you missed a trick there."
Evocative and precisely written, laced with choice dialogue and scenes of vivid seediness, Keeping Mum is a beautifully judged account of an era usually doused in generalised sentiment. Thompson catches England on the cusp, when the population escaping from its "Victorian canyons" was lost without the extended families that had been an integral part of their self-sufficient poverty. Bert and Peggy are freaks in an oddly desolate new world. Like Larkin, Thompson finds in this deprivation something akin to Wordsworth's daffodils.