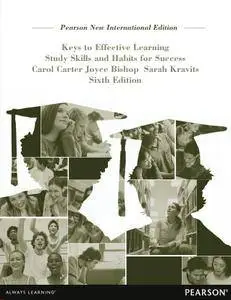 Keys to Effective Learning: Pearson New International Edition: Study Skills and Habits for Success, 6th Edition by Carol J. Carter, Joyce Bishop, Sarah L. Kravits
English | 2014 | ISBN: 1292042621, 9781292042626 | 401 Pages | True PDF | 28.54 MB
The sixth edition is geared to students who are academically underprepared for college-level studies, especially first-generation and at-risk students. The text helps students build habits for success and develop the thinking, self-management, and study skills they need to succeed academically, and has been streamlined to focus more on essential study skills, with greater coverage of memory, studying, reading, and test-taking.
It retains its acclaimed simple-to-use Critical and Creative Thinking coverage, and adds relevance by addressing the two greatest barriers to staying in school—time and money management. Understanding how you think is key; this revision promotes students' self-awareness, and offers a pre- and post-course assessment. The Habits for Success theme is more integrated and practical to ensure students develop the tools needed to increase their preparedness, confidence, and commitment to learning.