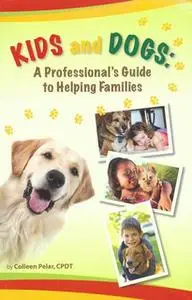 «Kids And Dogs» by Colleen Pelar
English | ISBN: 9781933562056 | EPUB | 2.6 MB
Expanded Description:
Six secrets dogs wish people knew… that will revolutionize how families relate to dogs! This book is both fantastic and unique. Every dog trainer, groomer, dog walker, shelter worker and general dog aficionado who would like to help parents improve the life of a dog living with children should read this book. It's filled with first-hand experience and stories that illustrate the points in a memorable way.
Illustrated with nearly 100 color photos, this book is one you'll pull out often when talking with clients about their dogs. A valuable tool for everyone who works with dogs and the people who love them.
Kids and dogs have misunderstandings every day. Most aren't serious, but some can be downright dangerous. If a bite occurs, a child could be injured and the dog could lose his home – or his life! Take the guesswork out of kid/dog interactions using these tips, tricks, and techniques. On every page you'll find things that make your work with dogs – and their families – easier.