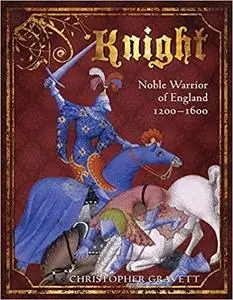 Knight: Noble Warrior of England 1200-1600 by Christopher Gravett
English | March 18, 2008 | ISBN: 1849081387 | 288 pages | PDF | 28 Mb
The traditional "knight in shining armor" has become a staple figure in popular culture and the images of bloody battlefields, bustling feasting halls and courtly tournaments have been creatively interpreted many times in film and fiction.
But what was the knight truly like? The world of the English Medieval Knight was complex, and ever-changing. From the household of King John to the defenders of Elizabeth I, there was great change in the social standing of knights, their equipment and appearance, and their involvement in politics and warfare.
An expert on Medieval military history Christopher Gravett describes how the knight evolved over four centuries of English and European history, the wars they fought, their lives in peacetime and on campaign, the weapons they fought with, the armor and clothing they wore and the fascinating code and mythology of chivalry. The text is richly illustrated with images ranging from manuscript illustrations to modern artwork reconstructions, and many photographs of historic artifacts and sites.
Feel Free to contact me for book requests, informations or feedbacks.
Without You And Your Support We Can't Continue
Thanks For Buying Premium From My Links For Support