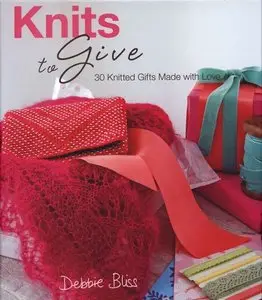 Knits to Give: 30 Knitted Gifts Made with Love by Debbie Bliss
Trafalgar Square Books | 2011 | ISBN: 1570764913 | English | 137 pages | JPG | 100.30 MB
Knitters looking for quick, hand-knitted gifts for a variety of occasions will find delightful solutions in this project book from a world-renowned knitwear designer. Designed for both beginning and expert knitters, the gift ideas included within use small amounts of materials and offer fantastic ideas for every tricky gift-giving situation. From heart-shaped pillows made to celebrate Valentine's Day with a loved one to an iPod cover made to congratulate a good report card, this guide provides knitters with charming ideas for creating thoughtful, handmade gifts that are guaranteed to make recipients feel cherished.
Download links: