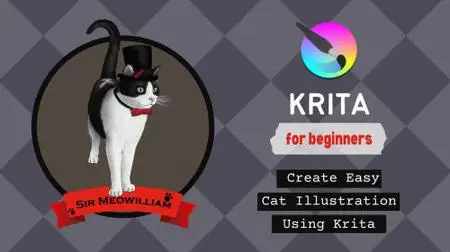 Krita for Beginners: Create Easy Cat Illustration Using Krita
Duration: 1h 33m | .MP4 1280x720, 30 fps(r) | AAC, 48000 Hz, 2ch | 793 MB
Genre: eLearning | Language: English
Many people want to get started on digital art, but they may feel overwhelmed or lack confidence because they don't know where to start or feel uncertain if they want to buy Photoshop or the whole Creative Cloud.
With Krita, you can download this software for free and start getting used to drawing on your computer.
Krita is free and open-source software that is available for anyone who has a computer. It's a great tool for beginners who want to experiment with digital art, build an art portfolio, perform photo manipulation, create concept art, create comics, and even create animation.
The best part about this class is that you can start exploring the endless possibilities with Krita along with the hands-on practice project for you to:
✓ Practice the techniques✓ Familiarize yourself with the shortcuts✓ And learn about Krita's tools
If you want to get started with digital art with free software and you like cats, this course will be perfect for you.
In this course, I will go over the basics of Krita, some tips and tricks to help you get started, brush recommendations to create texture, and create a cute illustration of your favorite cat.
What you'll need for this class:
Tablet, computer, or laptop.
If your computer does not have a tablet/Surface/Apple pen, then you'll need drawing devices such as Wacom, Huion, etc.
Krita software:
https://krita.org/en/
The course is created with very easy-to-follow content with clear instructions and useful resources so it's very beginner-friendly. 
What you'll learn:
Intro to digital drawing
Krita fundamentals
Tips for using Krita
Sketching basics
Line art basics
Painting basics
How to source a great reference photo
How to create illustration style from the reference photo
How to create depth with shadows
How to create fur texture
How to create a transparent background for the image
How to change the colors of your illustration
What's great about this course is that you can use the same technique on many other subjects you wish to draw! Cat is my favorite animal as well as for many people so if you're a cat-lover like me, you'll have a lot of fun in this class.
By the end of this course, you will become more familiarized with Krita and will be able to draw a cat with confidence!