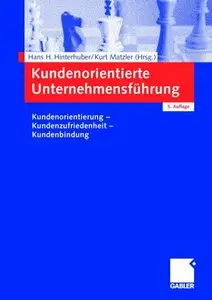 Hans H. Hinterhuber, Kurt Matzler, "Kundenorientierte Unternehmensführung. Kundenorientierung - Kundenzufriedenheit - Kundenbindung"
Gabler | 2008 | ISBN: 3834902276 | 654 pages | PDF | 82,7 MB
Renommierte Experten aus Wissenschaft und Unternehmenspraxis beschäftigen sich mit aktuellen Fragen zu den Themen Kundenorientierung, Kundenzufriedenheit und Kundenbindung. Das Ziel ist, dem Leser einen fundierten Überblick über Grundlagen, Instrumente und Methoden zu vermitteln. Die kompakte und in sich geschlossene Darstellung dieser Thematik wurde für die zweite Auflage aktualisiert und durch zusätzliche Aspekte erweitert. Erfahrungsberichte erfolgreicher Unternehmungen über die Anwendung verschiedener Konzepte und Methoden runden das Werk ab.
Thanks to the original uploader!