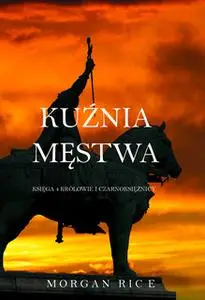 «Kuźnia Męstwa (Księga 4 Królowie I Czarnoksiężnicy)» by Morgan Rice
Polski | ISBN: 9781632914842 | EPUB | 0.4 MB
"Przepełniona akcją powieść z gatunku fantasy, która z pewnością zadowoli zarówno fanów dotychczasowej twórczości Morgan Rice, jak i entuzjastów powieści takich jak The Inheritance Cycle Christophera Paolini…. Najnowsza powieść Rice wciągnie bez reszty wszystkich miłośników literatury dla młodzieży."
–The Wanderer, A Literary Journal (dotyczy Powrotu Smoków)
Bestsellerowa seria, z ponad czterystoma pięciogwiazdkowymi recenzjami na Amazonie.
KUŹNIA MĘSTWA to czwarta część bestsellerowej serii fantasy Morgan Rice, KRÓLOWIE I CZARNOKSIĘŻNICY (pierwsza część, POWRÓT SMOKÓW, jest do ściągnięcia za darmo)!
W KUŹNI MĘSTWA Kyra powoli wraca znad krawędzi śmierci, uzdrowiona przez miłość Kyla i tajemniczą moc. Jego poświęcenie wskrzesza jej siły, lecz cena tego jest wysoka. Gdy wreszcie udaje jej się przekonać Alvę, by zdradził tajemnicę jej rodu, dowiaduje się wszystkiego o swej matce. Otrzymawszy szansę na dotarcie do źródła swej mocy, musi dokonać wyboru: kontynuować szkolenie czy udać się na ratunek swemu ojcu, który osadzony w lochach stolicy, czeka na egzekucję.
Aidan, z Papugiem u swego boku, także stara się uratować ojca, uwięzionego w pogrążonej w wojnie stolicy. W tym samym czasie Merk, zaskoczony swoim odkryciem, staje do walki przeciwko armii trolli. Gdy Wieża Ur zostaje otoczona, razem z innymi Obserwatorami musi zrobić wszystko, by ochronić najcenniejszą relikwię swego narodu.
Dierdre staje w obliczu śmierci, gdy potężna armia Pandezji przeprowadza inwazję na Ur. Kiedy jej ukochane miasto wali się w gruzy, ona musi zdecydować, czy uciec, czy zaryzykować życie w heroicznym czynie. Alec tymczasem przemierza bezkresne wody ze swoim tajemniczym towarzyszem, żeglując do miejsca, w którym nigdy wcześniej nie był, do krainy bardziej nawet tajemniczej, od nieznajomego przy sterach. To tam ma poznać swoje przeznaczenie i odkryć czym jest ostatnia nadzieja Escalonu.
KUŹNIA MĘSTWA przeniesie cię do świata rycerzy i wojowników, królów i namiestników, honoru i męstwa, magii, przeznaczenia, potworów i smoków. To magiczna opowieść o miłości i złamanych sercach, oszustwach, ambicji i zdradzie. To powieść fantasy w najlepszym wydaniu, która będzie żyć w tobie jeszcze długo po jej przeczytaniu, która wciągnie każdego czytelnika, bez względu na jego płeć czy wiek.
Piąta część serii KRÓLOWIE I CZARNOKSIĘŻNICY ukaże się już wkrótce.
"Dobra wiadomość dla wszystkich tych, którzy po przeczytaniu całej serii Kręgu Czarnoksiężnika wciąż pragną więcej. Książki Morgan Rice to zapowiedź kolejnej genialnej serii fantasy, która zabiera nas w podróż do świata trolli i smoków, męstwa, honoru, odwagi, magii i wiary w swoje przeznaczenie. Morgan po raz kolejny udało się stworzyć nietuzinkowych bohaterów, których dopingujemy na każdej stronie książki. … Obowiązkowa pozycja w biblioteczce każdego miłośnika gatunku fantasy."
–Books and Movie Reviews, Roberto Mattos (dotyczy Powrotu Smoków)