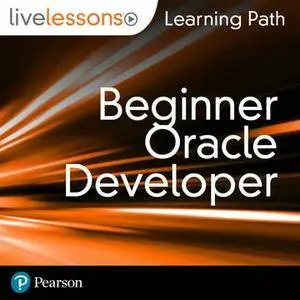 Learning Path: Beginner Oracle Developer
HDRips | MP4/AVC, ~4000 kb/s | 1280x720 | Duration: 14:49:44 | English: AAC, 128 kb/s (2 ch) | 13,0 GB
Genre: Development / Programming
This Learning Path includes Oracle SQL LiveLessons, Oracle PL/SQL Programming: Fundamentals to Advanced LiveLessons, and Toad for Oracle LiveLessons.
Oracle SQL LiveLessons Video Training covers the basics of the Oracle SQL programming language. This course covers both Oracle standard SQL and the ANSI approved SQL that Oracle supports. The focus of the course is to give students working knowledge of the Oracle SQL language and at the conclusion of this course, students should be able to query the Oracle database. Oracle PL/SQL Programming: Fundamentals to Advanced LiveLessons begins with a fundamentals module that covers the basics of Oracle's language extension for SQL and the Oracle relational database. The focus is to give students with a working knowledge of SQL the ability to develop Oracle procedures, functions, and packages using the PL/SQL language. The advanced module teaches developers with PL/SQL experience the new and advanced features of the PL/SQL language along with performance tuning techniques. Toad for Oracle LiveLessons video training covers the latest features of TOAD necessary to view, extract, and manipulate data within the Oracle database. This course is designed for both the developer using Toad to aid in programming Oracle objects, as well as for the business analyst using Toad as a query tool for data extraction and analysis. There is even a complete lesson for the database administrator.
Welcome to the best eLearning video (English, German, French, Spanish language) and many more:
LINK
Do not forget to check my blog! Updated regularly! Add in bookmarks my blog :)
PM me if Links not working!
No mirrors pls!