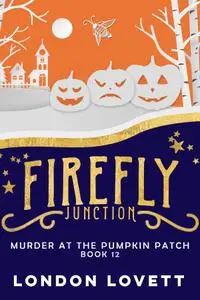 Murder at the Pumpkin (Firefly Junction Cozy Mystery #12) by London Lovett
20 Sept 2021 | English | ePUB | ISBN: 1230004731665 | Pages: 199 | 960 KB | Retail
Sunni Taylor's sisters, through their power of sisterly persuasion, have convinced her to host a Halloween costume party at Cider Ridge Inn. She's a little reluctant about the whole event and rightly worried about the actual ghost, who will, no doubt, be in attendance, but she decides to just relax and enjoy it. Of course, you can't have a spooky Halloween party without toothy-grinned jack-o'-lanterns.
Sunni talks Jackson into spending their day off at a local pumpkin patch. The Riggle Family Farm is famous for its sprawling pumpkin patch and mind-boggling corn maize. Sunni and Jackson look forward to a day in the autumn breeze sipping cider, nibbling on candy corn and choosing the best pumpkins for the party. But when one of the Riggles is murdered, the day off turns into a murder investigation. And once again, Sunni has a front seat to the chaos.
More in the series:
1. Death in the Park
2. Killer Bridal Party
3. Murder at the Inn
4. A Humbug Holiday
5. Calamity at the Carnival
6. Double Trouble
7. Havoc at Wildwood Manor
8. Fatal Feud
9. Trick or Trouble
10. A Crafty Killing
11. Death at the Museum
12. Murder at the Pumpkin Patch
13. Founders' Day Fiasco