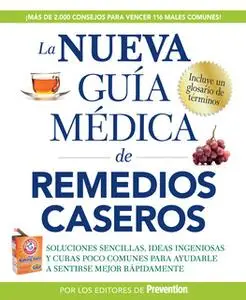 «La Nueva Guia Medico de Remedios Caseros» by The Editors of Prevention
Español | ISBN: 9781609615772 | EPUB | 1.8 MB
¡Remedios Caseros para 116 Problemas de la Salud!
¿Se siente decaído debido a un resfriado o a la gripe? ¿Quisiera tener más energía o dormir mejor? ¿Está preocupado por tener un nivel alto de azúcar en la sangre o de colesterol? Sin importar lo que lo aqueja, La nueva guía médica de remedios caseros es el recurso que le brindará toda una gama de soluciones seguras y efi caces que usted mismo podrá emplear al momento. Los editores de la revista Prevention–la máxima fuente de información sobre la salud en todos los EE.UU.–se han unido a un equipo estelar de doctores y profesionales médicos para brindarle los mejores consejos de autocuidado con el fi n de aliviarle los síntomas y ayudarle a recuperarse.
Con instrucciones claras y precisas, así como pautas que le indicarán cuándo debe conseguir atención médica, La nueva guía médica de remedios caseros le ayudará a cuidarse a sí mismo sin preocupaciones ni conjeturas acerca de lo que debe hacer. ¡El alivio verdadero está a su alcance!