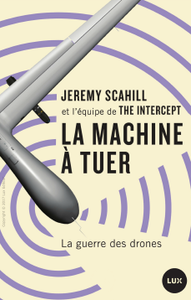 La machine à tuer : La guerre des drones
Lux | Sept 2017 | ISBN: 2895962545 | French | PDF | 203 pages | 34 MB
Même s'ils sont l'instrument de prédilection pour les frappes dites "chirurgicales", les drones ne visent juste qu'une fois sur dix et, la plupart du temps, assassinent des personnes qui ne représentent aucune menace. De plus en plus utilisés par les militaires et les services de renseignements américains, ces engins et ceux qui les commandent à distance font non seulement de nombreuses victimes innocentes, mais ils affaiblissent le renseignement antiterroriste en attisant la colère des populations affectées par la menace de la mort venue du ciel, en plus d'empêcher la collecte d'informations, parce qu'ils tuent au lieu de capturer.
Biographie de l'auteur
Jeremy Scahill est journaliste d'enquête et cofondateur, avec les journalistes à l'origine de l'affaire Snowden, de The Intercept. Il a été correspondant de guerre pour le magazine américain The Nation. Il est l'auteur de Dirty Wars. Le nouvel art de la guerre (Lux, 2014) et de Black-water. L'ascension de l'armée privée la plus puissante au monde (Actes Sud, 2009).