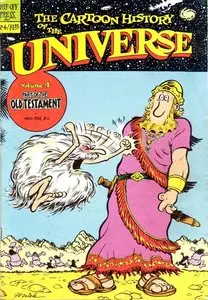 Larry Gonick's Cartoon History of the Universe, Book 4
Publisher: Rip Off Press | Pages: 53 | 1st Edition of 1980 | ISBN 0688010113 | JPG | 22 MB
Gonick's hilariously informative history of the planet is a great addition to the growing field of comics trade books. Starting with the Big Bang theory and moving on to the "evolution of everything," he manages to cover three billion years–from the origins of cellular life to the fossil and dinosaur periods that followed, right up to the first appearance of hominids–all with casual erudition, silly humor and delightfully cartoon drawings. But Gonick doesn't stop there. He reinstates the record of women (their theoretical role in the development of agriculture and the matrilineal clans of the neolithic era) as well as accurately restoring black racial characteristics to the Egyptian dynasties. He also surveys other highly evolved ancient civilizations: the Sumerians, the Hittites, the Assyrians and the Israelites. Gonick cheerfully conjures rulers, warriors and slaves alike, many stumbling around in the desert, as they form the foundations for Western civilization.