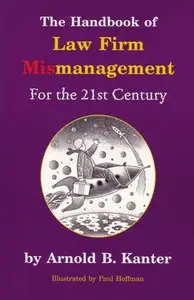 Arnold B. Kanter, Paul Hoffman, "The Handbook of Law Firm Mismanagement for the 21st Century"
Catbird Press | 2003 | ISBN: 0945774575 | 236 pages | PDF | 5,5 MB
America's expert on law firm mismanagement is back with a whole new array of humorous committee meetings, memos, speeches, and consultants' reports that present lawyers acting not like sharks, but rather floundering in a sea of dilemmas. The lawyers at the fictitious firm Fairweather, Winters & Sommers consider the advantages of merging and going virtual, bicker over a firm web site, and in front of a morning talk-show audience, try to understand economics, and scramble to figure out what to do when a big corporate client gets caught being unusually unethical. A sports-mogul client argues for drafting law-school graduates as if they were athletes, and a look into the future finds lawyers trolling outer space for new business. As ever, the firm's founder, Stanley Fairweather, gets the last, wise word. Imagination and humor drive this law firm send-up, which turns a dull topic into hilarious farce and entertains lawyers while showing them the error of their ways.
Not all books on AvaxHome appear on the homepage.
In order not to miss many of them follow
ebooks section
(see top of each page on AH)
and visit
my blog
too :)
NO MIRRORS according to the rules