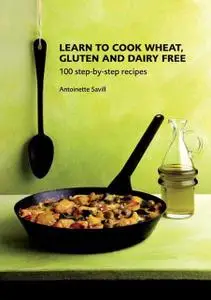 «Learn to Cook Wheat, Gluten and Dairy Free» by Antoinette Savill
English | EPUB | 3.9 MB
A simple, stress-free guide to preparing meals that meet your dietary needs—and are still tasty enough for the whole family.If you've been told to follow a diet free of wheat, gluten, or dairy, cooking at home more often is a great idea, giving you much more control over what you eat. But you don't want to be stuck making meals for the family and separate dishes for yourself to ensure that you avoid triggering allergies or intolerances. This cookbook offers lots of options that can make everyone happy while also keeping you healthy.Designed for beginners as well as experienced cooks, these recipes draw from a variety of cuisines and use alternative ingredients such as coconut milk and rice flour. You'll find recipes to replace all those ready-made meals, snacks, and desserts you used to pick up in the supermarket—soups, sauces, lasagna, macaroni and cheese, fish pie, burgers, casseroles, muffins, cupcakes, Christmas cake, cheesecake, crumble, apple pie, sausage rolls, quiche, and more. As a bonus, there are also recipes for special occasions—from Christmas and birthdays to everyday entertaining.