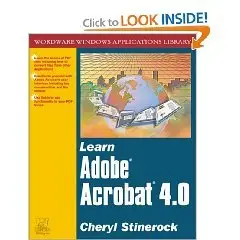 Cheryl Stinerock, "Learn Adobe Acrobat 4.0 (Wordware Windows Applications Library)"
Publisher: Wordware Publishing, Inc | 2001 | ISBN 1556227728 | PDF | 300 pages | 2.53 MB
Product Description:
Learn Adobe Acrobat 4.0 provides introductory users with a broad range of instruction, from the fundamentals of using Adobe Acrobat to more complex issues surrounding PDF forms and the Internet. The book begins with an overview of PDF files, then examines the user interface, including dozens of tools and commands. Readers learn how to use bookmarks, thumbnails, and links; how to incorporate interactive features such as movie clips and sound; and how to create and customize forms with various fields and buttons. Protecting your files by using passwords and digital signatures is also discussed, as is using PDF documents on the Internet.