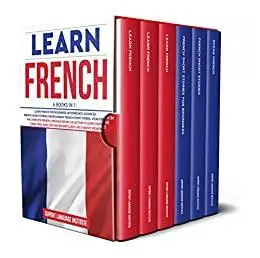 Learn French: 6 Books in 1: The Complete French Language Books Collection to Learn Starting from Zero, Have Fun and Become Fluent like a Native Speaker by Dupont Language Institute
English | 2020 | ISBN: N/A | ASIN: B08JZDZCRY | 722 pages | EPUB | 0.96 Mb
THIS BOOK INCLUDES:
Learn French for beginners
Learn French for Intermediate Users
Learn French for Advanced Users
French Short Stories for Beginners
French Short Stories
Speak French
If you've had a strong desire to learn French but have never found that one comprehensive beginner-friendly guide that can teach you everything you need to know as regards to the fundamentals of French- within the shortest time possible, then keep reading!
You Are About To Discover The Best Way To Learn French And Sharpen Your Skills In The Language With The Best Set Of Resources In Existence!
Boasting an estimate of 235 million speakers, 85 million of them being native speakers, French is the official language in 29 countries and an important business language in Europe, North Africa, Canada and many rapidly emerging markets. Therefore, it makes sense to want to learn it to use it for both business and personal interactions.
So where do you start?Is there a less irking way to learn the language?Is it possible to learn the language in less than two weeks?What if you don't want to sound like a beginner but still have a good grasp of the language in no time?
If you have these and other related questions, this 6 in 1 book is for you so keep reading, as it will teach you everything you need to know about learning French from complete basics to the advanced stuff!
More precisely, this 6 in 1 book will teach you:
How to construct proper sentences in French
How you should use articles, adjectives, verbs, adverbs, nouns, pronouns, conjunctions, tenses, numbers and other elements of speech the right way in French
How to put it all together with words and phrases that you can use in everyday places
Awesome French stories, including practical words and phrases that are sure to help you handle different situations like a native
The English versions of the stories
A breakdown of common French vocabulary and grammar used in the different stories to help you put these words in everyday use, including quizzes to test your grasp of the language
How to create everyday conversations in French, ask and answer questions, use French syntax, speak about sports, music, culture, clothes, foods, drinks and other topics in French
How to master the use of stress and accents in French and do comparisons proficiently
How to identify and fix your own mistakes as you continue learning French
What you need to learn to understand French fully, including powerful tips for success
How to master the critical parts of advanced French grammar and sentences to assist you gain fluency
The rules of grammar and important concepts you need to know
How to use different words, phrases and grammar rules right while reading, writing and speaking French
How to navigate in a new country by speaking proper French
Feel Free to contact me for book requests, informations or feedbacks.
Without You And Your Support We Can't Continue
Thanks For Buying Premium From My Links For Support