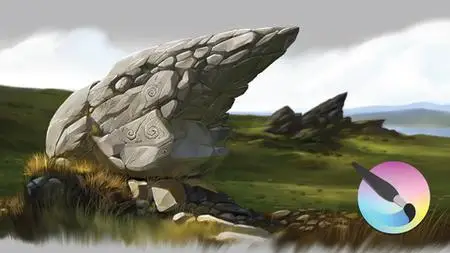 Learn How To Create Concept Environment Art Using Krita
Last updated 8/2022
MP4 | Video: h264, 1280x720 | Audio: AAC, 44.1 KHz
Language: English | Size: 13.58 GB | Duration: 10h 48m
Practical and easy to understand technique in using Krita to create your personal concept environment art.
What you'll learn
You will learn how to create and personalize your own set of brushers.
Learn how to utilize amazing KRITA's tools to assist your painting.
Creating your own environment assets with clear step by step tutorials.
Learning fundamental knowledge in composition and perspective.
Step by step tutorials to guide you in learning photo bashing techniques in conceptual environment art from entry level to advance level.
You will also learn how to use elements to elevate story telling in your artworks.
Learning paint over technique on photograph to help you in setting up composition, light and mood in your painting.
Learn how to use KRITA's editing tools to do post editing and effects in your final painting.
You will learn how to make use of the keyboard shortcuts to enhance your painting efficiency.
Requirements
You will need to download KRITA digital painting software and install in your operating system.
Digital drawing tablet is required due to you will need the pressure sensitivity from the drawing tool and if you have the budget, you may consider the screen drawing tablet to enhance your painting experience. ( Recommended drawing tablet brand - 1. Wacom (score 5/5), 2. Huion (score 4.5/5), 3. XP Pen (score 4.7/5)
You may need to have fundamental knowledge in operating computer's software.
Patience in solving technical problems and learn how to troubleshoot when facing unforeseen hardware or software issues. My advise is always make use of Google or YouTube to seek help in troubleshooting issues.
Set goals in the outcome which you want to achieve and achieving it one step at a time.
"Develop a passion for learning. If you do, you will never cease to grow." -Anthony J. D'Angelo
Description
Hi, my name is Ethan Lo, I'm from Vox Art Studio.I've been into art education since 2006,and occasionally involve myself in digital content industries such as animation, game and other industries which need digital illustration.My personal favorite field in digital art is creating conceptual environment art.Especially, an open world either in fantasy or sci-fi genre.The process of creating an environment art is always an escape to me.I love to explore my imagination and often lose myself into the world which I have created.This is how I found my happiness and I wish to share it to you as well.The digital art software which I'm teaching is KRITA.KRITA is an open source software which means it is totally free.You may visit their website to download a copy of either the Windows or Mac version.This course is for those who are beginners in digital art and wish to learn new techniques and tools that can boost their creativity and efficiency.Throughout the course, you will learn:How to set up your own brush tag & customize your personal brush preset.You will learn how to utilize tools in KRITA to increase your effectiveness in painting.For art beginners, I have created a clear step by step tutorial in creating environment assets or what we call props design.Understanding composition and perspective drawing in conceptual environment art.Learn how to paint over photograph technique in creating concept art.If you have no idea how to start your concept art, you may start from getting inspiration from your researched photos   and start building on it.Last but not least, introducing photobashing technique which is a highly effective technique in creating conceptual environment art.This is normally used by concept artists to speed up their workflow and achieve a more realistic style.So, no worries, if you are new to this.I will guide you through from entry level to advance level tools and techniques.That's great news to you right?Why don't you give us a try.Unless you have any more questions or concerns, I think we're ready to get started!Can't wait to show you how and I'm very excited to see you soon.
Overview
Section 1: Introduction to Digital Environment Art Course
Lecture 1 Overview of this course
Section 2: Getting started in using KRITA & learn how to paint environment assets.
Lecture 2 Overview of KRITA (Digital Painting Software)
Lecture 3 Learn how to create your own brush tag & customize your brush preset
Lecture 4 Learn how to utilize layers & tools function (part 1)
Lecture 5 Additional input in tools & layers
Section 3: Basic Rock & Botanical Asset Illustration
Lecture 6 Learn to import image to canvas & set shortcut key for it
Lecture 7 Light & shadow part 1
Lecture 8 Light & shadow part 2
Lecture 9 Learn to paint rock asset from a photo reference part 1
Lecture 10 Learn to paint rock asset from a photo reference part 2
Lecture 11 Learn to paint rock asset from a photo reference part 3
Lecture 12 Adding shadow to the rock assets
Lecture 13 Learn to paint botanical asset part 1
Lecture 14 Learn to paint botanical asset part 2
Lecture 15 Combining rock with botanical asset part 1
Lecture 16 Combining rock with botanical asset part 2
Section 4: Paint over photograph technique 1
Lecture 17 Overview & how to start
Lecture 18 Learn to use blender brush
Lecture 19 Learn to use transformation brush & adding details
Lecture 20 Adding details (rock surface design)
Lecture 21 Adding carving
Lecture 22 Adding background
Lecture 23 Adding background 2
Lecture 24 Adding foreground details
Lecture 25 Adding highlights & overlay color layer
Lecture 26 Adding depth of field
Section 5: Perspective Drawing
Lecture 27 Lesson overview
Lecture 28 Brief explanation of one point perspective
Lecture 29 One point perspective drawing technique
Lecture 30 Brief explanation of 2 points perspective
Lecture 31 2 points perspective drawing technique part 1
Lecture 32 2 points perspective drawing part 2
Section 6: Photo bashing technique using KRITA - entry level
Lecture 33 Tree of Life part 1
Lecture 34 Tree of Life part 2
Lecture 35 Tree of Life part 3
Lecture 36 Tree of Life part 4
Section 7: Photo Bashing Technique 2 - Intermediate level
Lecture 37 Ancient Ruin part 1 - Composition & Concept Design
Lecture 38 Ancient Ruin part 2 - Setting up main subject & laydown pathway
Lecture 39 Ancient Ruin part 3 - Refining design & adding more details
Lecture 40 Ancient Ruin part 4 - Finalizing design & adding post editing effects
Section 8: Photo Bashing Technique 3 - Advance level (Sci-Fi Theme)
Lecture 41 Space Port part 1 - Establish base design concept
Lecture 42 Adding design details to make it believable
Lecture 43 Adding thruster to the spaceship
Lecture 44 Docking Bay design
Lecture 45 Post editing in Lights & Environment Effects
Section 9: Photo Bashing Technique - Additional content for beginners
Lecture 46 Overview & setting up design
Lecture 47 Learn to use HSV adjustment, color balance & alpha inheritance
Lecture 48 Lay down castle design foundation at medium ground
Lecture 49 Adding walls to the castle
Lecture 50 Adding bridge & road to create sense travelling to the target destination
Lecture 51 Adding beacon tower to enhance the story telling
Lecture 52 Paint over on existing photos to elevate the concept design
Lecture 53 Adding some environment effects & tweak overall mood
Lecture 54 Adding lens flare, lights & ember
Lecture 55 Adding horse rider & improve castle design to further enhance the story telling
Section 10: Paint over photograph technique in concept environment art 2
Lecture 56 Ancient Road part 1 - Build your design through paint over on the selected scene
Lecture 57 Ancient Road part 2 - Adding textures photo & design details
Lecture 58 Ancient Road part 3 - Further adding design details to enhance storytelling
Lecture 59 Ancient Road part 4 - Post Editing to create best visual results
Beginner in concept art,Artist,Curious in digital painting,Beginner in game art,Environment art,Beginner in digital painting software,Students who wish to learn Krita,digital painting,digital art,concept art,krita