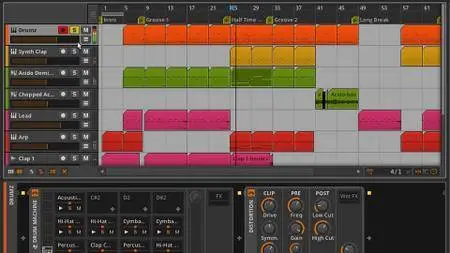 Learning Bitwig Studio
MP4 | Video: 720p | Duration: 3:48:52 | English | Subtitles: VTT | 1058.4 MB
In this course, Evan Sutton covers all of the most-important features of Bitwig Studio, the next-gen DAW designed specifically for electronic music, so you can take your ideas and turn them into epic recordings and live performances—fast. Evan helps you "shake hands" with the interface, use Bitwig's software instruments, record MIDI, get amazing sounds from raw audio, and use loops, effects, EQ, and compression to build clips into solid compositions. In the final chapter, Evan shows you how to create a performance system that rocks, using adapted pieces from your composition and external hardware controllers.
Topics include:
Setting up
Recording and overdubbing MIDI
Editing MIDI
Sampler and synth programming
Editing audio
Making songs out of loops
Adjusting volume and panning
Basic mix techniques using EQ and compression
Creating scenes for live performance