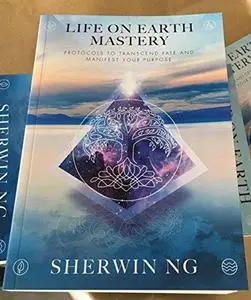 Life on Earth Mastery: Protocols to Transcend Fate and Manifest Your Purpose by Sherwin Ng
English | May 2, 2016 | ISBN-13: 9789671409305 | 286 pages | PDF | 3.68 Mb
LIFE ON EARTH MASTERY:
Protocols to Transcend Fate & Manifest Your Purpose
'We do not predict the future – we create it'
There is so much more to life: Beyond meaningful, there is mastery. Question is – are you ready to create the life of your dreams? Do you dare make that change?
Transcending Fate
Based on ancient collective wisdom, the 7 Laws of Earth Mastery within this book will help you transcend your own limitations and transform the life around you. Fate is we are constantly affected by our past or by our external environment, and we resort to forcefully control and survive our immediate reality. This leads to obstacles, fatigue, and dissatisfaction – something will always feel 'missing'. Fate is when we are bound by the influence of our astrology and karma.
This book will teach you to:
•Break free from Fate
•Become a Master of your life
•Access and consciously realize your Destiny
•Affect the world around you – bend reality to match your Destiny
Manifest Your Purpose
Higher Purpose – or Destiny – is only accessible to those who know how, and for those who dare. Only when you are in your true Destiny can you affect the world around you. When you are still governed by Fate, only the outside world affects you – your finances, relationships, health, and life capacity.
Now is the time to reclaim your birthrights of abundance, freedom, power, love, and miracles – and reshape the world according to the life of your dreams.
SHERWIN NG has been a teacher and trainer of metaphysics and the spiritual sciences for over a decade. His seminars and sacred retreats continue to bring him around the globe, and he is known for his ability to merge spirituality with practicality. Sherwin is also the founder and visionary behind House of Kite & WeatherLight, a school for spiritual sciences, personal mastery, energy medicine, and divination.
"Sherwin is a master-level spiritual teacher who shares his formulas and methods for living in a series of clear, simple, and doable steps." – Dato' Joey Yap, International Best Selling Author and Speaker, Founder of the Mastery Academy of Chinese Metaphysics
"Sherwin is an amazing channel of wisdom. 'Life on Earth Mastery' is a must-have book for your life journey!" – Sri Mulyadi, International Healer & Founder of The Blue Lotus