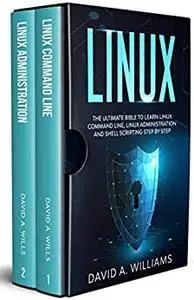 Linux: The Ultimate Beginners Bible to Learn Linux Command Line, Administration and Shell Scripting Step by Step by David A. Williams
English | April 9, 2020 | ISBN: N/A | ASIN: B087L9YKCP | 245 pages | EPUB | 0.28 Mb
Have you tried your hand at Linux and failed? Did you try some books in the market and those were too dumb or too advanced?
Now, you've found the perfect package! The two book bundle takes you on a tour of Linux, starting right from the basics, covering the mid-tier and taking you to all the advanced shortcuts and hotkeys.
The bundle not only makes you familiar with the interface but also makes you the master of it. In no time, you will work better on Linux than you did on any other OS that you've tried your hands on. The bundle starts right from the point where you install the Linux to the point where you can control the most advanced commands at your fingertips!
Take a peek at what the book holds:
Learn to install and use Red Hat Enterprise Linux 7
Command-Line in Linux
Basic file navigation experience and hotkeys
Shell Scripting – Basic and Advanced
Analysis of Linux environment variables
Manage system and manual task using the Command-Line
Mastering the Linux OS
And a lot more!
Pick the bundle now and become the master of the Future OS and make your life in coding a lot easier!
Don't push it off for another second and grab the ticket to Linux Excellence!
Feel Free to contact me for book requests, informations or feedbacks.
Without You And Your Support We Can't Continue
Thanks For Buying Premium From My Links For Support