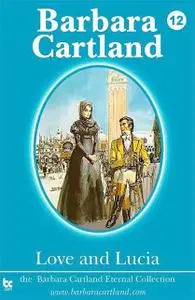 «Love and Lucia» by Barbara Cartland
English | EPUB | 0.2 MB
Even amid the genteel grandeur of Venice, the Marquis of Wynchcombe's ennui is undiminished. His fiery mistress Francesca, a beautiful and flamboyant Venetian actress, bores him almost as much as the company of the Beau Monde and royal acolyte with whom he associates.
So when an impoverished but delicately alluring young Englishwoman – Lucia – accosts him at a café and beseeches him to peruse the painting of her dying father, he is intrigued – more so when he realises that Lucia's father is a genius… But then he dies.
Lucia is distraught and destitute but the Marquis saves her from penury by buying her father's every painting, promising to take her home to England. Enraged by her beau's apparent infatuation with the young ingénue, Francesca stabs him with a stiletto… But it's Lucia who has truly pierced his heart and stolen his soul – and just as the Marquis thinks she will be his forever, she delivers the heartbreaking words: 'Although I love you with all my heart I cannot be your wife…'