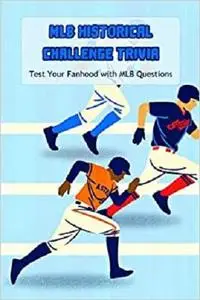 MLB Historical Challenge Trivia: Test Your Fanhood with MLB Questions: Basketball Trivia by MILLER BRITTANY
English | June 10, 2021 | ISBN: N/A | ASIN: B096TW9CH8 | 59 pages | EPUB | 5.47 Mb
Match wits with the father of baseball trivia, David Nemec, a ten-time national champion as he presents more than 100 MLB stumpers that are artfully designed to test the depth of the reader's knowledge about the game since 1871, including.
Who is the most recent major leaguer to compile 100 or more hits, 20 or more complete games, and 20 or more decisions in the same season? No, the answer is not who you think!
Who is the only pitcher to hurl a minimum of 5,000 career innings and surrender fewer hits per 9 innings than Walter Johnson?
What team had a record of 52–62 when the strike shut down the 1994 season but was on track to qualify for postseason play with the lowest winning percentage ever by a division or league first-place finisher?