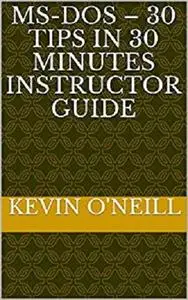 MS-DOS - 30 Tips in 30 Minutes Instructor Guide by Kevin O'Neill
English | January 18, 2019 | ASIN: B07MXRMQT9 | 17 pages | AZW3 | 0.35 MB
The following instructor guide is meant for one to review pertinent tips and tricks in regard to MS-DOS (Microsoft Disk Operating System). MS-DOS famously became the foundation of the personal computer revolution. It has stood the test of time and still holds value as the backbone of the personal computers operating system. Therefore, this guide is meant to be utilized by an individual whom will be reviewing via a demonstration format some cool tips that a general user who will be using MS-DOS – can utilize in order to save time. The guide can also be utilized by any individual interested in self-study learning some core and key aspects of MS-DOS.
Basic Fundamentals
1.Ver
2.Ver > ver.txt
3.Dir
4.Dir /w /p
5.Type ver.txt
6.* Wildcard symbol
7.Cls
8.Dir |Find "ver"
9.Print
10.Help | more
Core Commands
11./? Switch
12.Dir /s /b > files.txt
13.Notepad files.txt
14.Dir *ver*. * /s
15.CD..
16.Tree /a > tree.txt
17.Dir /o:-n
18.Fn – F7
Networking Commands
19.Ipconfig /all | more
20.Start
21.Ping
22.Systeminfo | more
23.Driverquery | more
24.Netstat
25.Net accounts
Directory Commands
26. Dir /a:d
27. Dir | find /v
28. Dir /s /q /a:sh /p
29. Dir /s *.txt;*.xls
30. Dir /o:d /t:w /a:-d