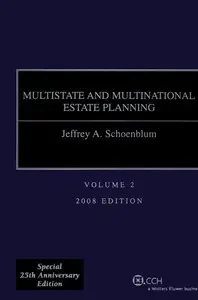 Jeffrey A. Schoenblum - Multistate and Multinational Estate Planning. Volume 2. 2008 Edition
CCH Incorporated | 2007 | ISBN-13: 9780808091387 ISBN-10: 0808091387 | PDF | Eng. | 1392 pages | RAR 62,51 Mb 3% Recovery
Special 25th Anniversary Edition
Multistate and Multinational Estate Planning is the one convenient source for estate planning in the 50 states as well as foreign countries. This two-volume set
provides comprehensive analysis of legal and tax considerations that vary from state to state and country to country.
Highlights of the Twenty-Fifth Anniversary Edition
The Twenty-Fifth Anniversary Edition of Multistate and Multinational Estate Planning covers the legislative, regulatory, and judicial developments that are of
most importance to estate planners and their clients. The highlights of this extensive revision and update include:
• A detailed exploration of trust jurisdiction and situs issues;
• Enhanced coverage of income taxation of foreign trusts;
• An examination of the Florida homestead rules;
• Detailed coverage of unauthorized practice and cross-border ethical issues;
• Discussion of the international perspectives on family allowance matters;
• Analysis of multi state aspects of disclaimers;
• Expanded coverage of the multistate aspects of the rule against perpetuities;
• Updated appendices with even more extensive treatment of the transfer tax laws of the countries of the world;
• Critical analysis of current offshore trust cases; and
• Important new developments and analysis of foreign wills, estate administration, and marital property.
Multistate and Multinational Estate Planning Vol. 01