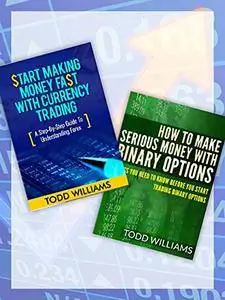 MAKE MONEY: Day Trading: A Guide To Understanding Forex/Currency Trading & Binary Options
English | Mobi | ISBN-10: N/A | ASIN: B00O5LCB6Q | 2014 | 78 pages | 0.3 MB
Do You Want To Make Money Online With Day Trading As A Part-Time Or Full-Time Gig?
This book will tell you the in's and out's of Forex/Currency Trading and give you the steps to get started.
Forex Trading and Currency Trading has rapidly become one of the fastest ways to make money. In this book you will learn strategies so that you can invest wisely in Forex and Currency Trading, and if done properly make ALOT OF MONEY!
Here Is A Preview Of What You'll Learn
- The Things You Need To Look Out For When Trading Forex/Currency and Binary Options
- How To Be Successful With Online Or Day Trading
- The Technical Terms Explained In An Easy-To-Understand Language
- How To Spot A Scam
- The Advantages & Disadvantages To Trading Online
- The Top Strategies That Trading Gurus Use To Win
- How You Can Make $100 to $1,000's Each Day
- Why The Forex/Currency Trading Is The Most Profitable Trading System
- The Strategies Experienced Forex Traders Use To Make $1000's Every Day
- How To Manage & Evaluate Your Trades
- How To Develop Market Discipline
- How To Make Day Trading Your New Part-Time Or Full-Time Job
- And Much, Much More!
Welcome to the best eLearning video (English, German, French, Spanish language) and many more:
LINK
Do not forget to check my blog! Updated regularly! Add in bookmarks my blog :)
PM me if Links not working!
No mirrors pls!