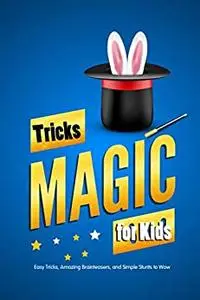 Magic Tricks for Kids: Easy Tricks, Amazing Brainteasers, and Simple Stunts to Wow: Self-Working Card Tricks by Kalei Fermantez
English | 2021 | ISBN: N/A | ASIN: B08W9PKZ32 | 56 pages | EPUB | 4.70 Mb
This simple step-by-step guide makes magic easy no matter what your age. Use this book of tricks to perform mind-reading stunts. Inventive tricks using mobile phones will delight more experienced magicians looking for something new.Let' s try them: Easy Magic Trick: How to Bend a Spoon, How to Do the Magic Cork Trick, The Disappearing Water Magic Trick, How to Do the Easy Thumb Magic Trick, Steel Straw, The Bill Drop, Floating Metal, The Afghan Bands, Easy Magic Tricks: The Magnetic Pencil, Jumping Rubber Band Trick, The Banana Buster, The Vanishing Coin Trick. They're all amazing!
Feel Free to contact me for book requests, informations or feedbacks.
Without You And Your Support We Can't Continue
Thanks For Buying Premium From My Links For Support